Fountain Books opened on August 3, 2015 in Kennewick, Washington.
The real story however, began in 1978 when Vern and Leora Belliston bought a little bookstore that was located in the front of a shoe repair shop in the Westgate Shopping Center in Richland, Washington. With six shelves of LDS products (everything that was available at that time), they began a tradition of loyal service to the LDS community.
As more LDS products became available, they grew out of the shoe repair shop and relocated to Columbia Center North in the Griggs building, upstairs. They soon outgrew that space and moved downstairs in the same building.
Known as Desert Bookstore, and later Far West Books & Gifts, customers became accustomed to the friendly smiles and family friendly shopping experience. In 1983, Vern retired and sold the bookstore to his daughter, Linda, and her husband Dick Boehning. As the store continued to grow, they moved the store to a much larger building in Columbia Center West, where it remained for many years. In 2018, the store moved less than a mile away to a new retail development as it plans to continue serving our local community for generations to come.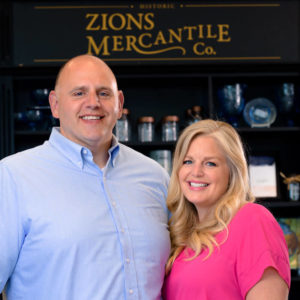 Ben and Jodi Archibald purchased Far West Books, Gifts, & Clothing in 2015. During the transition of becoming an independent Deseret Book Store that same year, the name was changed to Fountain Books. Since then, Fountain Books has enjoyed hosting several concerts in our community. GENTRI, Jason Lyle Black, Lexi Walker, and David Archuleta have all traveled to the Tri-Cities area to perform, thanks to the support of local businesses and loyal Fountain Books customers.